In October 2018, 167,258 Disney Vacation Club points were sold for the 10 DVC resorts located at Walt Disney World. This represents an increase of 7.3% over the prior month, but sales in 2018 continue to lag behind sales for the same period in 2017 by 2.4%.
Copper Creek Villas & Cabins at Disney's Wilderness Lodge — In what is becoming routine, Copper Creek once again topped the 100,000-point mark with 137,651 points sold for the month. This marks the 10th consecutive month for it to reach that level. By comparison, Disney's Polynesian Villas & Bungalows had no more than nine consecutive months when it sold over 100,000 points, while the Villas at Disney's Grand Floridian Resort & Spa did the feat in only two consecutive months.
Disney has sold 1,901,618 points for Copper Creek, which is 57.3% of the resort's 3.321,966 total points. For the third consecutive month, no Guaranteed Week deeds were sold for Copper Creek.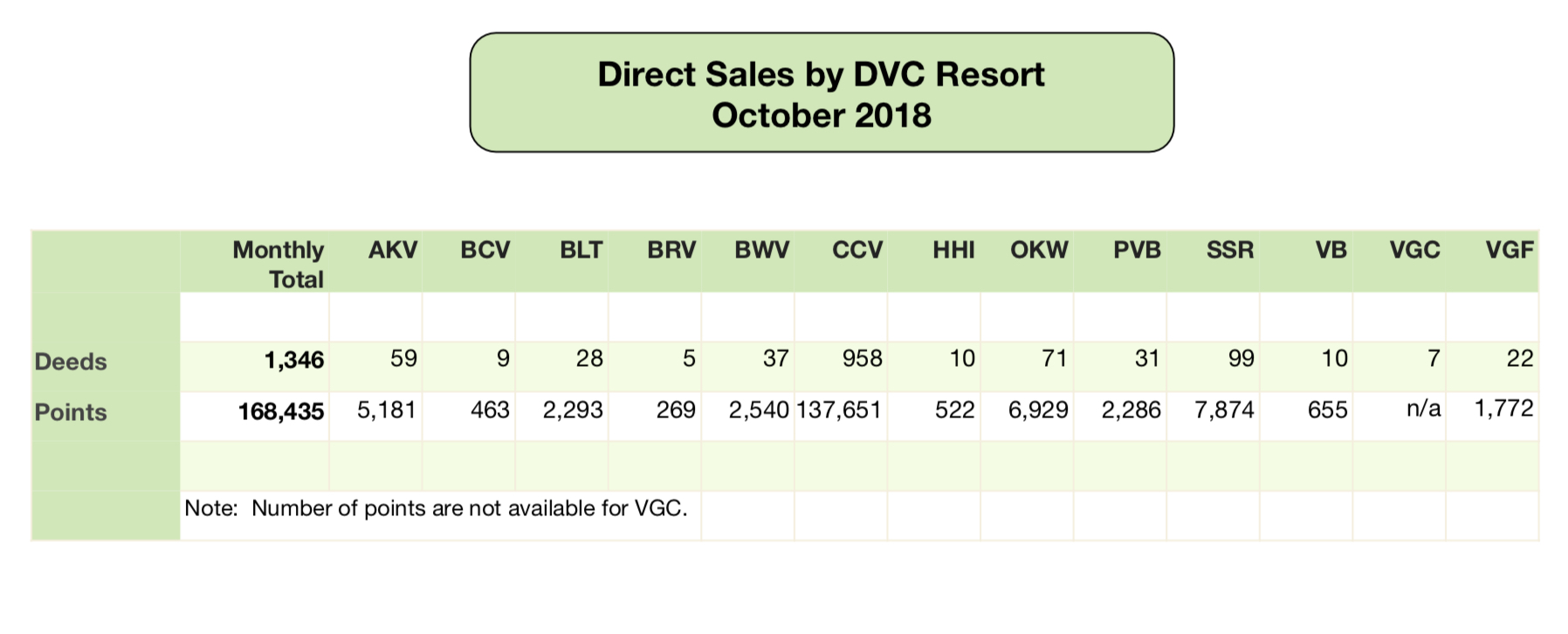 Disney is required by law to retain at least 2% of Copper Creek's total points. Currently, Disney has about 1.35 million unsold points that it can sell to the general public. At the current rate of sales, Copper Creek should be completely sold out in about 10 months. Even if future sales dip to only 100,000 points a month, Disney would run out of points it could sell by December 2019.
Disney will likely consider Copper Creek to be "sold out" three or four months before its supply of points is totally exhausted. The sales data for this article is based on deeds that have sold and have gone through closing. However, Disney has thousands of pending transactions awaiting closing. Most transactions are closed within two or three weeks of being purchased, but some deeds take months before they are officially closed and recorded with the Orange County Comptroller. There are other pending deeds where the purchasers never make the final payment. As long as these deeds are pending, the underlying points are considered to be "sold" by Disney. Thus, Copper Creek could be "sold out" as early as June or July 2019.
If past practice is any indication, Disney will continue to have a limited number of points available for sale even when Copper Creek is "sold out." But the most significant aspect of a resort being "sold out" is that sales incentives are usually eliminated. With incentives, Copper Creek can be purchased as little as $155.40 a point. Once it is "sold out" the price should revert to the full base price, which is currently $182 per point.
The sales data includes all 10 DVC resorts at Walt Disney World, as well as Disney's Vero Beach Resort, Disney's Hilton Head Island Resort, and Aulani, Disney Vacation Club Villas. Point sales data is not available for the Villas at Disney's Grand Californian Hotel. The data is compiled from deeds filed by Disney Vacation Development and recorded with the Orange County (FL) Comptroller, the Indian River County (FL) Clerk of Court, and the Beaufort County (SC) Register of Deeds.
---
Wil Lovato is a contributor to DVCNews.com and has been a Disney Vacation Club owner since 2009. His DVC Home Resorts include Bay Lake Tower, Animal Kingdom Villas, and Aulani. He can be found posting on many Disney discussion forums under the username of "wdrl."
BLOG COMMENTS POWERED BY DISQUS