Members Surveyed on New Destinations
Select Disney Vacation Club members were asked to rank their interest in a range of new destinations including Hong Kong, San Francisco and Vail, Colorado.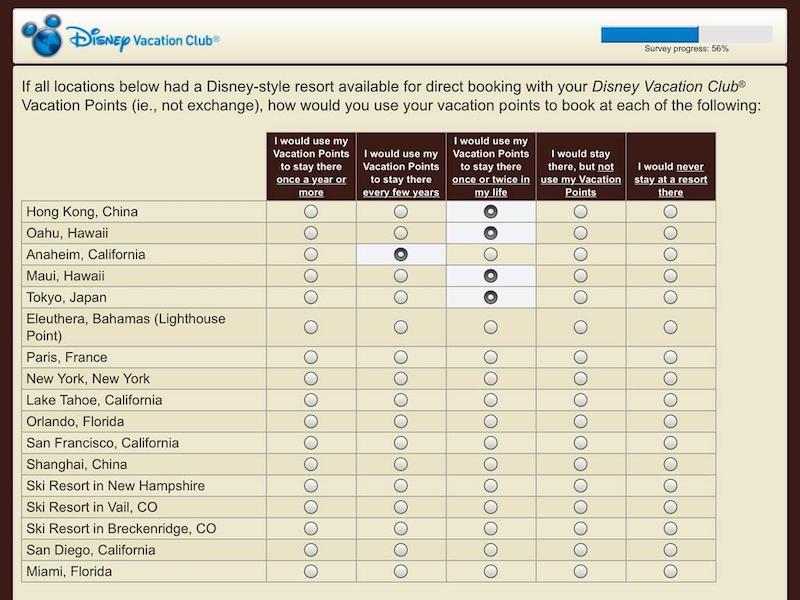 Scott Sanders from DisneyCruiseLineBlog.com shared the above screen shot from a DVC survey designed to gauge interest in more than a dozen current and prospective destinations. The specific question asked in the survey was:
"If all locations below had a Disney-style resort available for direct bookin with your Disney Vacation Club Vacation Points (ie., not exchange), how would you use your vacation points to book at each of the following."
The list included several existing DVC destinations like Orlando, FL, Anaheim, CA and Oahu, HI. However 14 additional destinations were cited including:
Hong Kong, China
Maui, Hawaii
Tokyo, Japan
Eleuthera, Bahamas (Lighthouse Point)
Paris, France
New York, New York
Lake Tahoe, California
San Francisco, California
Shanghai, China
Ski Resort in New Hampshire
Ski Resort in Vail, CO
Ski Resort in Breckenridge, CO
San Diego, California
Miami, Florida
Respondants were asked to comment on the frequency with which they would use points for such destinations, with options ranging from "once a year or more" to "once or twice in my life" to "I would never stay at a resort there."
None of the questions asked members to comment on interest in purchasing points at these locations.
Disney Vacation Club currently operates an internal trading options dubbed the Concierge Collection and the Disney Collection. Via the Concierge Collection, members can use points to book more than 30 non-DVC destinations including The Fairmont in San Francisco, Keystone Resort in Colorado and Mandarin Oriental in Washington DC. The Disney Collection is a group of non-DVC resorts located near theme parks including Hong Kong Disneyland and Tokyo Disneyland.
Rather than using this survey as the basis for building and selling points at new resorts, DVC may use member feedback to tweak its current exchange programs.
DVC often conducts surveys on new destinations, changes to member perks, resort amenities, member satisfaction and a variety of other topics. Many of those surveys are documented here at DVCNews.com.
Thanks to @TheDCLBlog for sharing the information!