Disney Vacation Club members can now participate in RCI's "Extra Vacations" program, paying low cash prices for timeshare accommodations without trading any points.
Timeshare trading company RCI now allows DVC owners to pay cash for hundreds of destinations rather than trading points. The "Extra Vacations" banner heralds weeklong stays for as little as $399 plus taxes and fees, however research shows many destinations available for under $399 with some as low as $29.99 for a full week stay. The deepest bargains tend to fall during non-peak seasons for a given resort, and the quality of a given property should be researched thoroughly before making a reservation.
Prime vacation destinations are featured including Hawaii, Las Vegas, resorts along the Atlantic coast including Miami Beach, the Caribbean, Brazil, United Kingdom and many more.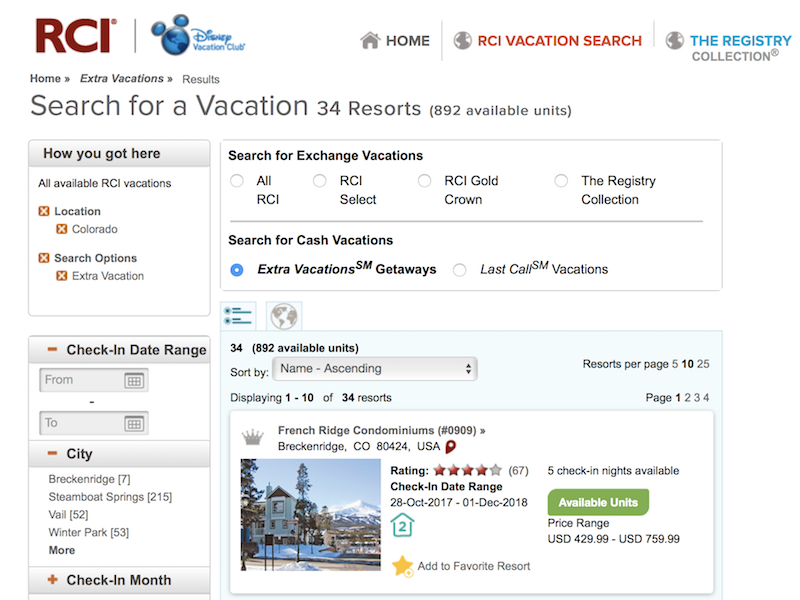 To access RCI, log onto DVCMember.com and look under "Plan Vacations" for the link labeled "Book Online: RCI." Using this link will redirect to the RCI website with DVC member credentials recognized.
Through the end of 2017, RCI is waiving the $95 transaction fee for points reservations. And now through November 30, DVC owners will receive a discount of up to 30% off short notice points reservations. These reservations must be made within 30 days of travel and the latest travel date is December 30, 2017.
For additional details visit DVCMember.com or the RCI website.
Thanks to Timothy D. for the tip!
BLOG COMMENTS POWERED BY DISQUS