On Saturday, Disney's Riviera Resort was officially introduced as the fifteenth Disney Vacation Club property--the eleventh on Walt Disney World property. Scenic views of Epcot and Disney's Hollywood Studios were promised, along with an entirely new mode of transportation. But what--and where--exactly is Disney's Riviera Resort?

Illustration of Disney's Riviera Resort (courtesy Google Maps)
Disney's Riviera Resort is the official name for construction the project currently under way at Disney's Caribbean Beach Resort. Several acres of land that were previously part of Caribbean Beach will be renovated to house Riviera. Let's walk through the progression one step at a time.
Original Design
Disney's Caribbean Beach Resort debuted in 1988. Caribbean Beach was designated a Moderate-class Walt Disney World property with budget-friendly guest rooms around 250 sq ft. Key characteristics included bright color palettes, exterior corridors and a lack of any patio or balcony attached to rooms.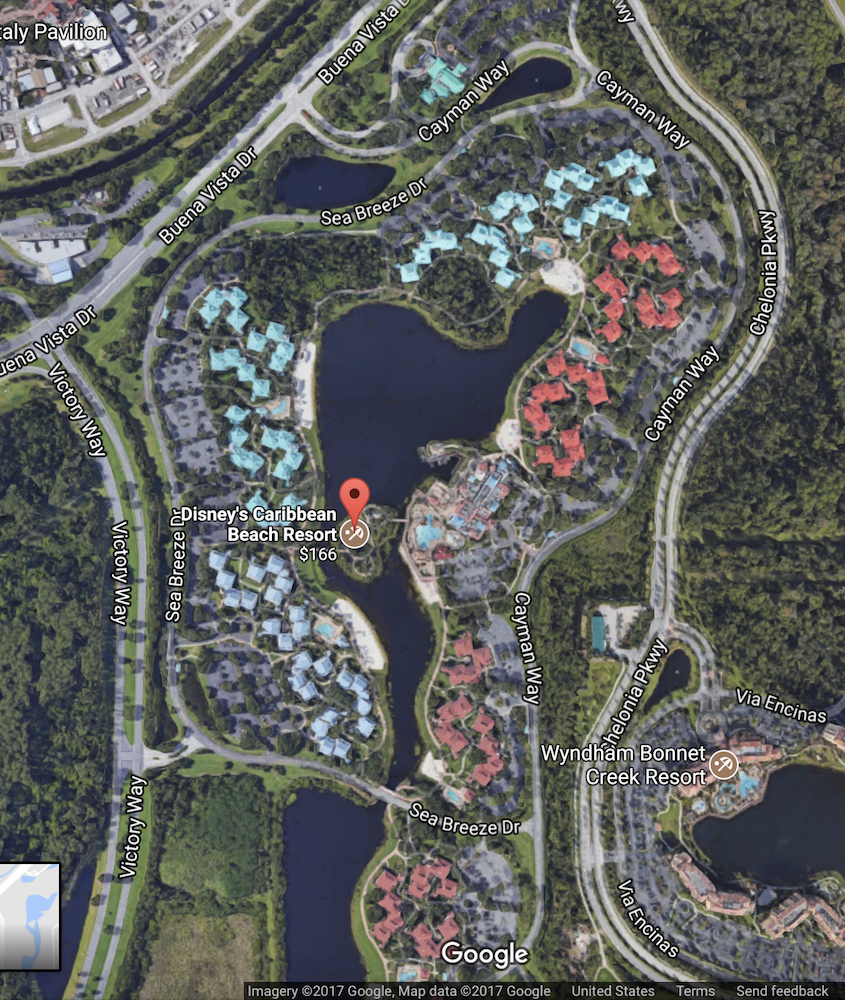 Disney's Caribbean Beach Resort original layout (courtesy Google Maps)
At its peak, the resort was home to over 2000 guest rooms grouped in 33 buidlings with sections named for Caribbean islands including Jamaica, Aruba and Trinidad. Resort dining, shopping and recreation facilities were primarily located in an area dubbed Old Port Royale Centertown. Recreation facilities ranged from a boat dock offering watercraft rentals to sand volleyball courts to kids playgrounds.
Disney's Caribbean Beach Resort
As far back as 2014, rumors pointed toward an eventual Disney Vacation Club presence on Caribbean Beach property. The first tangible evidence emerged in January 2017 when permit applications showed major changes to the resort including the demoliton of numerous existing buildings, an extended closure for Centertown and construction of new facilities. These new facilities were reportedly linked to DVC, and now confirmed to be Disney's Riviera Resort.
Ground Clearing
With a little help from Photoshop, let's examine what is going away at Disney's Caribbean Beach Resort. Nine of the resort's thirty-three buildings will be removed entirely. In fact, it has happened already. In the illustration below, all 6 buildings in the northernmost Barbados section are gone along with 3 neighboring buildings in Martinique.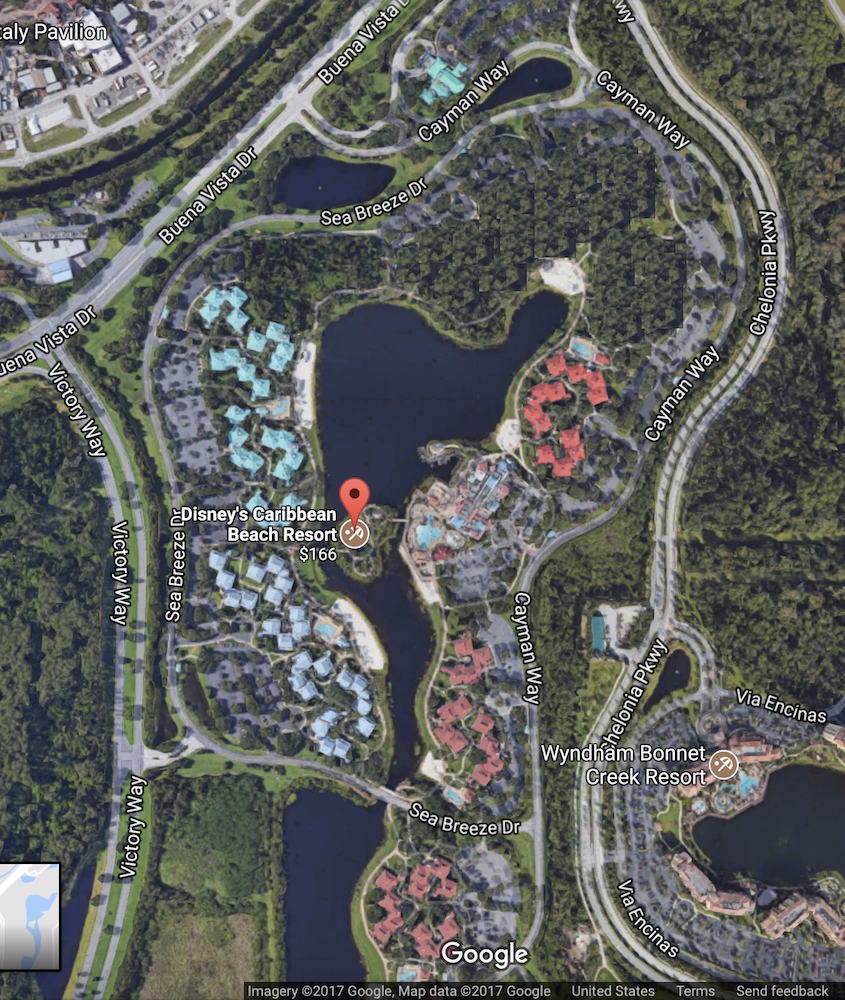 Digitally altered image with nine former CBR buildings removed (courtesy Google Maps)
Permits filed with the South Florida Water Management District indicate that there will also be changes to shorelines in the area including at least one entirely new pond (more on that later.)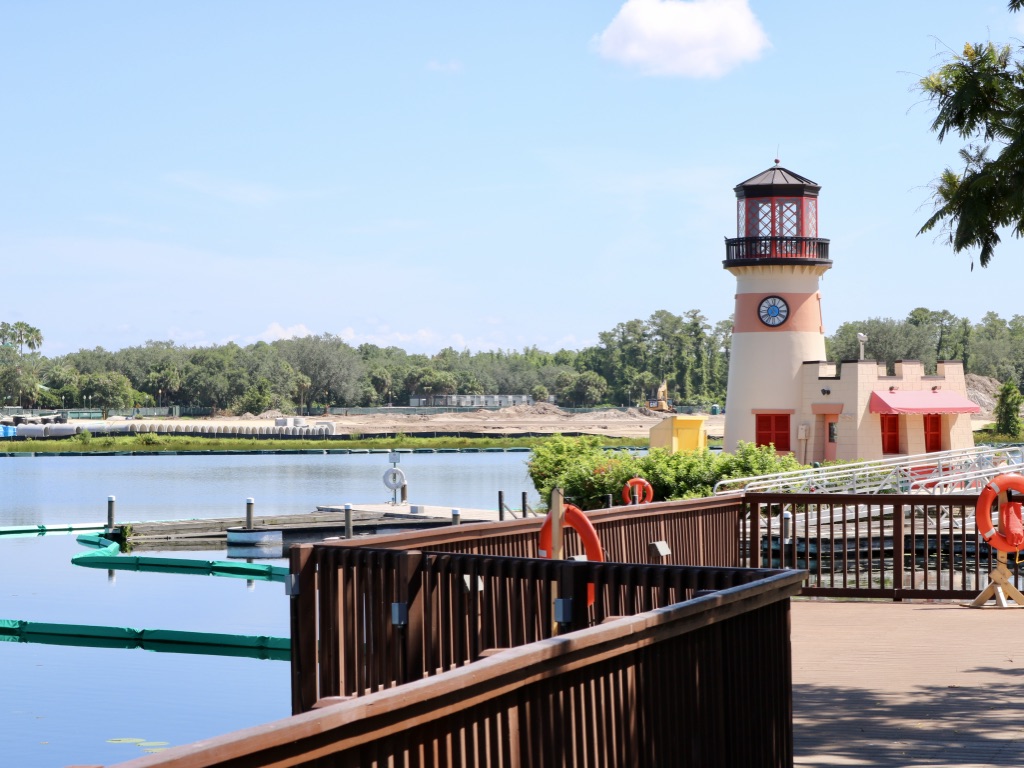 Nine Barbados and Martinque buildings have already been removed
Roads and other facilities will certainly be reconfigured. The Custom House checkin location for Caribbean Beach is currently located at the extreme north of this property, which would effectively place Disney's Riviera Resort in the midst of Caribbean Beach. Expect the Custom House to be relocated with possible changes to Caribbean Beach's entry gate.
New Construction
The image below illustrates how the property will look once construction is complete. The large red building is Disney's Riviera Resort. In blue is a new pond planned for the property. This pond is important to designers because it adds a distinct physical element to help divide what they plan to market as two separate resorts.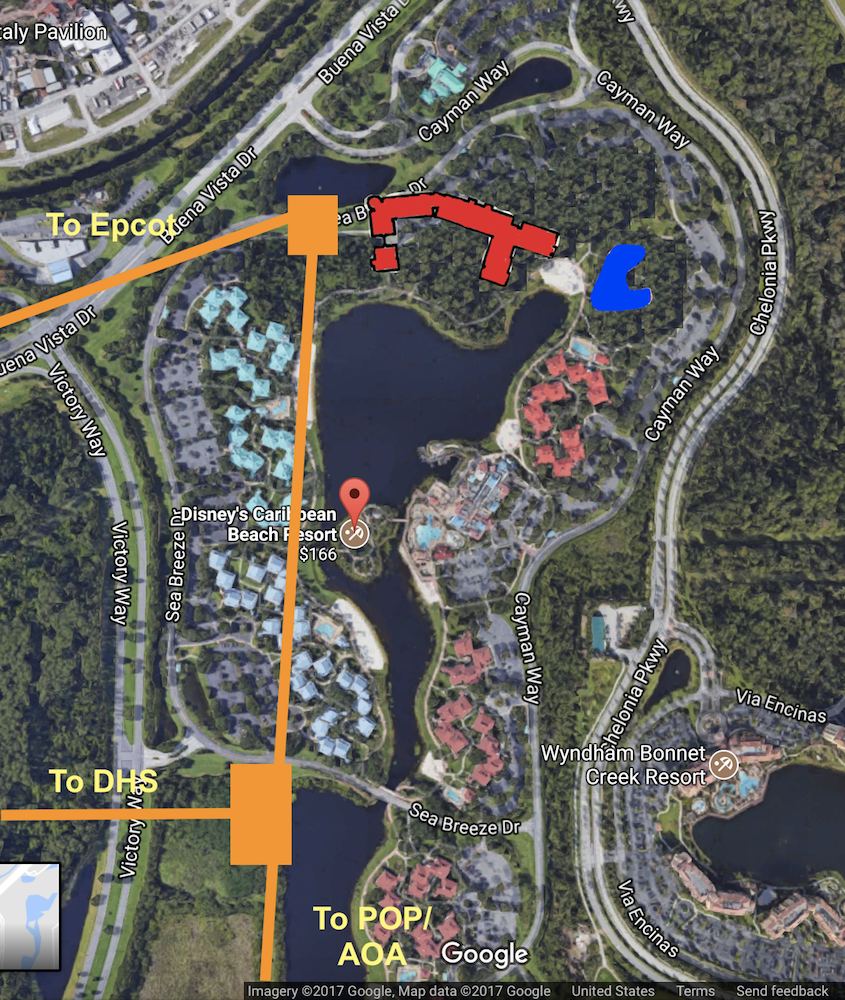 Illustration of CBR / DRR integration (courtesy Google Maps)
A portion of Walt Disney World's new Skyliner gondola system is shown in orange. The larger station to the south will service Caribbean Beach and act as the hub for the entire system. Further to the south it will connect to both Disney's Art of Animation Resort and Disney's Pop Century Resort. To the west a spur will go directly to Disney's Hollywood Studios. The Epcot route will lead northward, travel near Disney's BoardWalk Inn & Villas and deposit guests outside the International Gateway.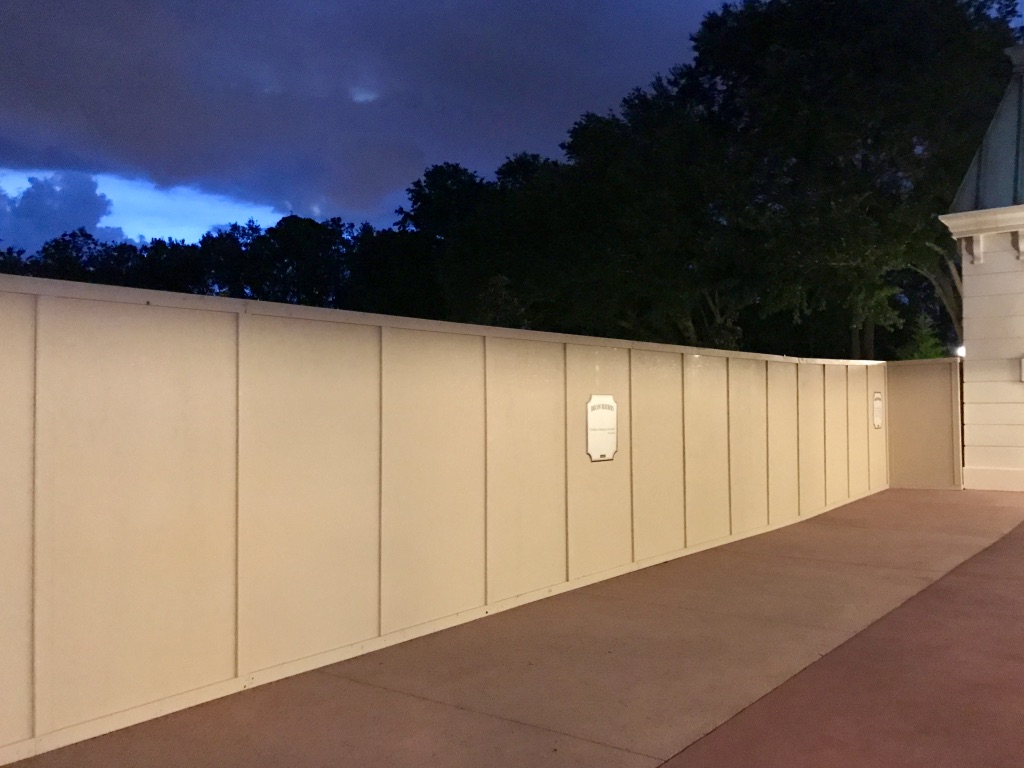 Large construction walls already surround former tram drop-off point / future Skyline station at International Gateway
Disney's Riviera Resort will have its own station on the Skyliner. Vertical construction is expected to begin very shortly with an opening planned for the fall of 2019.
So what else do we know about the Disney's Riviera Resort?
---
Is Disney's Riviera Resort the first Moderate-class DVC property? Absolutely not. While it is being constructed on land that formerly housed Moderate hotel rooms, expect Disney to go to great lengths to separate Riviera from Caribbean Beach. It will be a Deluxe destination like other Disney Vacation Club properties...with prices to match.
What "Riviera" will the resort be based upon? Concept art doesn't reveal much on the theming but smart money is on the Mexican Riviera to mesh with Caribbean Beach. French Riviera would seem to be a bit of a thematic departure, and the 1967 Buick Riviera is probably not in the conversation (h/t to Wil.)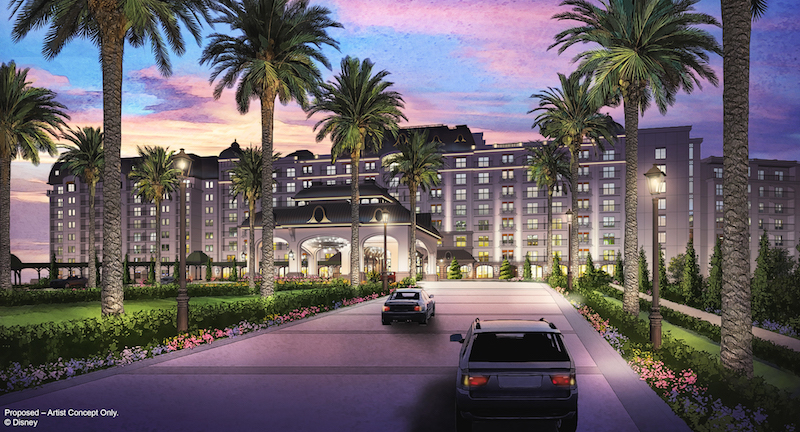 Disney's Riviera Resort
How big is Disney's Riviera Resort? Disney cited a figure of 300 rooms, which is on par with Bay Lake Tower at Disney's Contemporary Resort. Concept art showcases a building at least 8 stories tall with a restaurant either on the 8th or alone on the 9th floor.
What size rooms will be available? Expect the full range of Deluxe Studio, One Bedroom, Two Bedroom and Three Bedroom Grand Villa units.
What views will the resort offer? As the crow flies, Disney's Riviera Resort is as close to Epcot as Disney's BoardWalk Villas. It has a clearer line of sight than the obstructed views offered by villas at the BoardWalk and Disney's Beach Club Villas, and it is three stories taller than either of those resorts. Additionally, Disney's Hollywood Studios lies directly to the west.
Some sort of Preferred & Standard View classifications are to be expected. The Preferred rooms will likely have a very impressive view of nighttime pyrotechnics, particularly from Epcot.
What transportation will be offered at Riviera? If we assume that Disney has taken reasonable steps to ensure that the Skyliner will operate in most Florida weather conditions, it could be the sole transportation option for Epcot and Hollywood Studios. Modest bus service may be maintained, but expect frequency to reflect the expectation that the majority of guests opt for the Skyliner. Nearby waterways do not connect to either park and walking paths seem unlikely.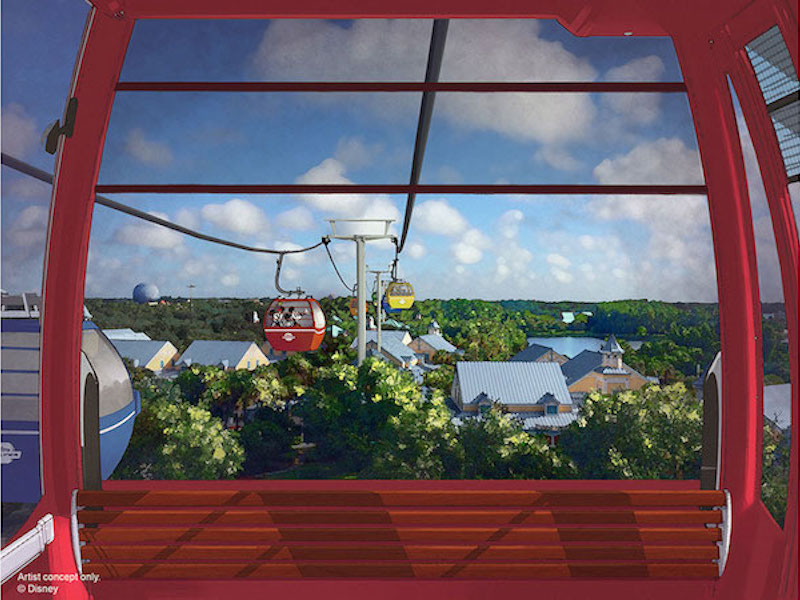 Concept depicts Skyliner above Caribbean Beach headed toward Riviera Resort
Magic Kingdom, Disney's Animal Kingdom and Disney Springs will be accessible by bus, likely shared service with Caribbean Beach.
Will there be a pool at Disney's Riviera Resort? At a size comparable to Bay Lake Tower, it will almost certainly have its own pool. And it will probably be a feature pool with a slide, splash pad, etc.
The courtyard-type area on the southern side of the building in our images seems perfect for swimming and other recreational facilities. Our guess is that the setup will be very similar to the Contemporary with Riviera facilites reserved exclusively for its guests, while the option to "hop" to Caribbean Beach pools may also exist.
What dining options will be offered at Riviera? This is where things start to get a little fuzzy. While Disney does want to create separation between Riviera and Caribbean Beach, it remains to be seen how much they will spend to maintain that separation. Disney did announce plans for a rooftop restaurant with fireworks views. It will be a table service venue, perhaps even a signature dining location on par with California Grill.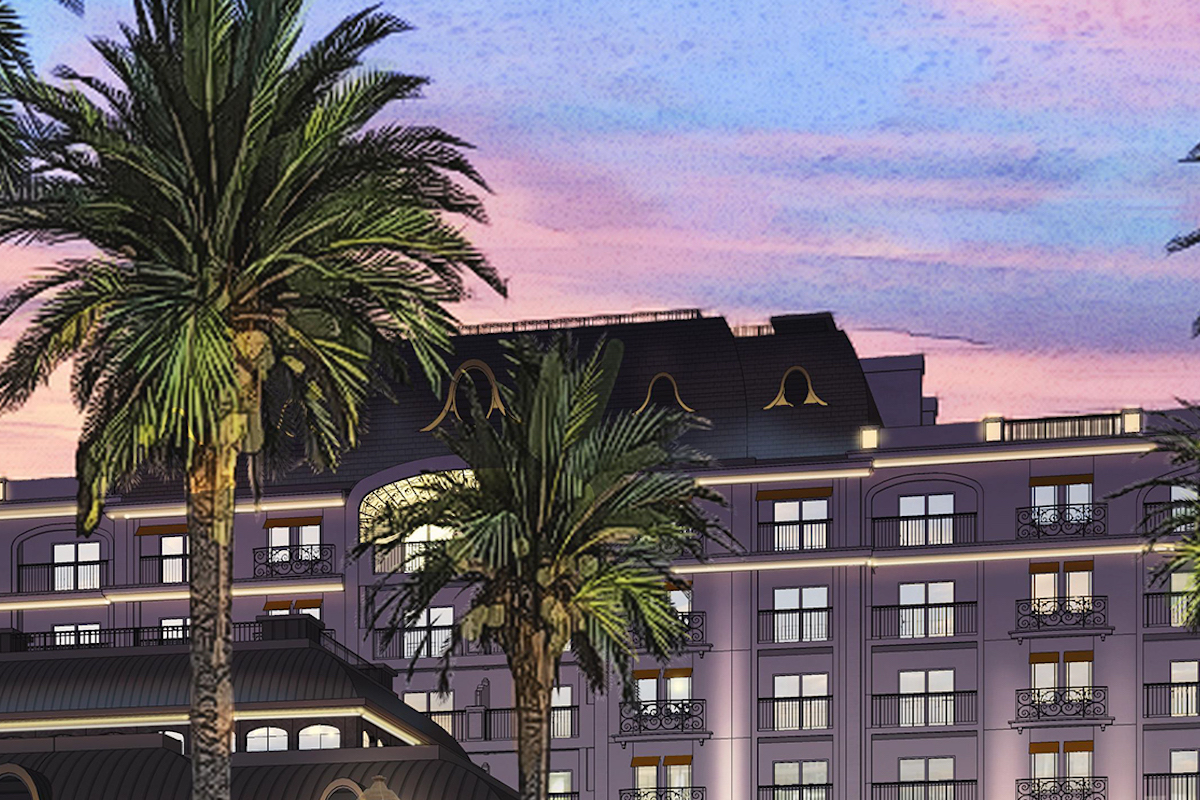 Rooftop restaurant and fireworks viewing
But will the Riviera's rooftop table service restaurant serve 3 meals per day? Will the resort have its own quick service dining options? Given the relatively close proximity to Caribbean Beach's Centertown--which is now being renovated--it's entirely possible that Disney will refer guests over there for additional dining needs.
Closed Centertown behind construction walls
What about other recreation like boat rentals, biking, playground, etc? Again, existing facilities at Caribbean Beach make us question whether these features will be replicated at Riviera. Between the new construction for Riviera and renovations at Caribbean Beach, Disney may have plans to create a dual-resort recreation area similar to Crescent Lake at Disney's BoardWalk, Yacht and Beach Club resorts.
With Copper Creek Villas & Cabins not even open yet, why did Disney announce Riviera so soon? We can only speculate but we suspect reasons can be traced to Star Wars: Galaxy's Edge at Disney's Hollywood Studios. Disney is preparing for massive crowds to accompany the debut of this exciting theme park addition. A key part of their crowd management plan is the Skyliner gondola system and, Riviera Resort is a hub on the Skyliner. As such, Disney is fastracking construction on Riviera with a planned opening in fall 2019 to coincide with Star Wars: Galaxy's Edge.
Concept art for one attraction at Star Wars: Galaxy's Edge
That excitement over Star Wars will likely fuel sales of Riviera points, so it's a win/win for Disney.
Riviera Resort will not be within walking distance of a theme park and it may lack some of the charm of the BoardWalk or Beach Club. However this represents the first Epcot-area addition to Disney Vacation Club in more than 15 years. The Skyliner provides convenient transportation options to two theme parks and balcony views have the potential to be second-to-none.
Stay tuned to DVCNews.com for all of the latest information on Disney's Riviera Resort and the entire Disney Vacation Club world.
BLOG COMMENTS POWERED BY DISQUS