The Transient Accommodations Tax charged to Disney Vacation Club members visiting Aulani, a Disney Resort & Spa is now more than twice the rate paid in 2016.
The State of Hawai'i imposes a daily Transient Accommodations Tax on all hotel and timeshare stays. For timeshare guests--including those using Disney Vacation Club points--the fee is based on the resort's annual dues and the number of vacation points required for the stay.
This tax is not particularly unique--the State of California also charges a transient tax to owners of Villas at Disney's Grand Californian Hotel. Grand Californian owners have this fee bundled into their annual dues while Hawai'i requires the tax to be collected from the guest occupying the timeshare. Thus, Aulani's transient accommodation tax is collected from guests at the conclusion of their stay.
The tax is calculated by taking one-half of the yearly maintenance fee, multiplied by the number of vacation points for the length of stay, multiplied by the Time Share Occupancy tax rate. The tax rate has risen repeatedly over the years. As recently as 2015, the state tax rate was set at 7.25%. It rose to 8.25% in 2016, 9.25% in 2017 and currently sits at 10.25%.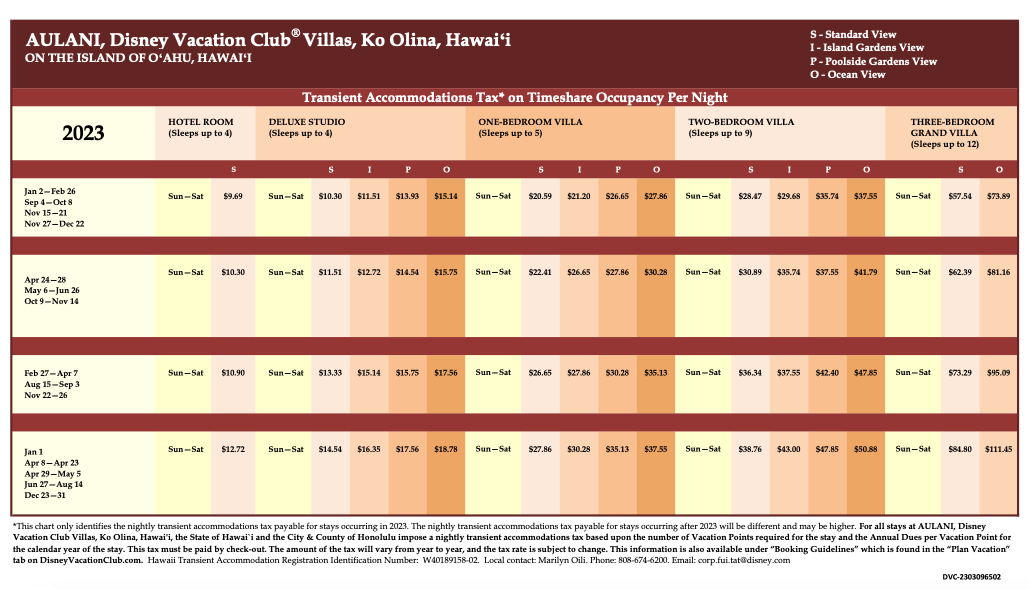 In 2021 the Hawaii State Legislature ended payments to individual counties from the 10.25% tax, while allowing counties to impose their own tax on top of the 10.25% state fee. Subsequently Honolulu Mayor Rick Blangiardi signed a law imposing an additional 3% Transient Accommodations Tax on resorts in O'ahu, raising Aulani's combined tax state and local rate to 13.25%.
One-third to one-half of the O'ahu tax will go to fund the area's rail system while the remainder goes into the city's general fund.
For 2023, Aulani's yearly Maintenance Fee is $9.1424 per point. The Transient Accommodations Tax on Time Share Occupancy is calculated as such:
$4.5712 (1/2 of the 2023 maintenance fee) * 1 (a single point) * 0.1325 (tax rate) = $0.6057 per point
A 7-night stay in an Ocean View studio during the March (2nd most expensive season) at Aulani requires 29 points a night, or 203 points for a week. The Transient Accommodations Tax is $17.56 per night, or $122.92 for an entire week.
These numbers are more than double 2016 when the same room was taxed at $8.12 per night and $56.86 per week. The increase is a function of the resort's dues rising from $6.79 per point in 2016 to $9.14 in 2023 and the tax rate increasing from 8.25% to 13.25%.
The complete list of Aulani tax rates for 2023 by room type and season is displayed above.
BLOG COMMENTS POWERED BY DISQUS