Detailed floorplans and sketches of a proposed Ft. Wilderness Disney Vacation Club property have surfaced, providing a wealth of information on a resort which may never come to be.
Rumors of a Disney Vacation Club property at Disney's Ft. Wilderness Resort first surfaced in 2010 when initial permit filings hit the South Florida Water Management website. Plans called for the relocation of several existing Ft. Wilderness amenities including the Tri-Circle "D" Ranch and construction of a multi-story DVC property.
Over time the project stalled with DVC giving higher priority to the Villas at Disney's Grand Floridian Resort and Disney's Polynesian Resort.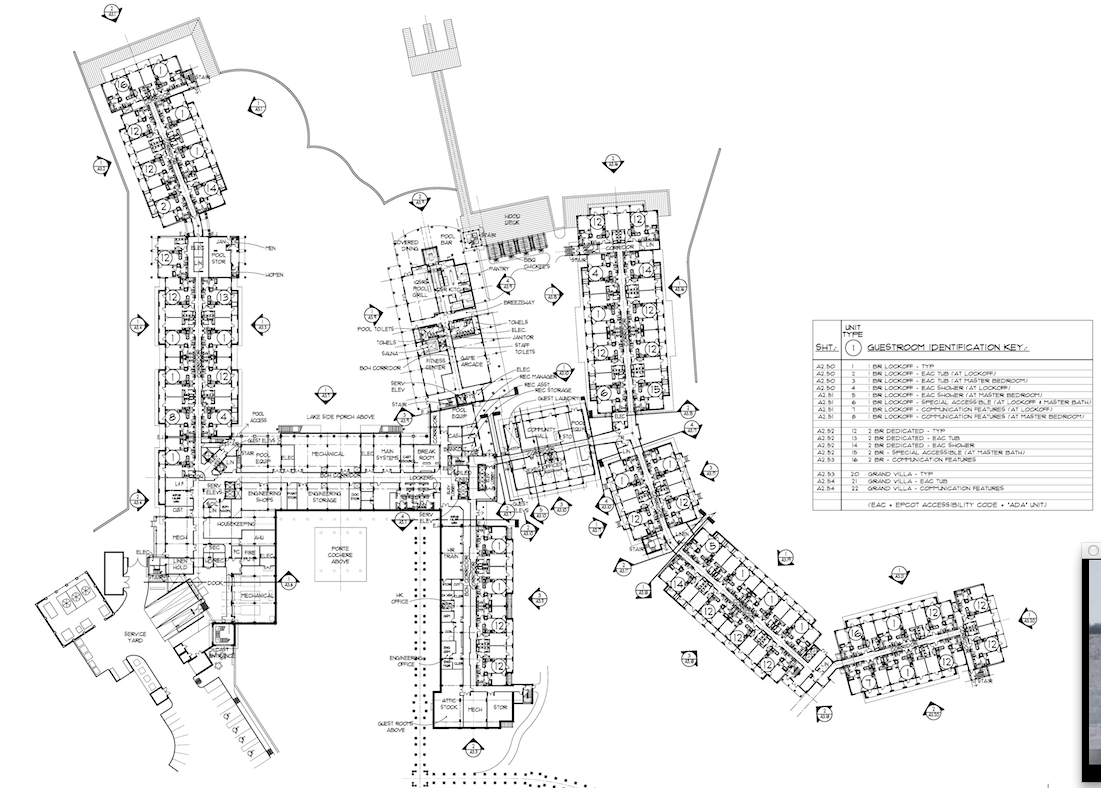 However, Twitter account @AmusementLeaks has posted a number of documents from the resort design under the hashtag #WildernessWayResort.
Thanks to these filings, a great deal of information can be gleaned regarding the proposed DVC property.
The building itself rises up to eight stories with pools, amenities and guest rooms on the first floor and a main lobby on the third floor. The design features Two Bedroom Dedicated villas, Two Bedroom Lockoff villas--which can be reserved separately as One Bedroom and Deluxe Studio--and numerous two-story Grand Villas.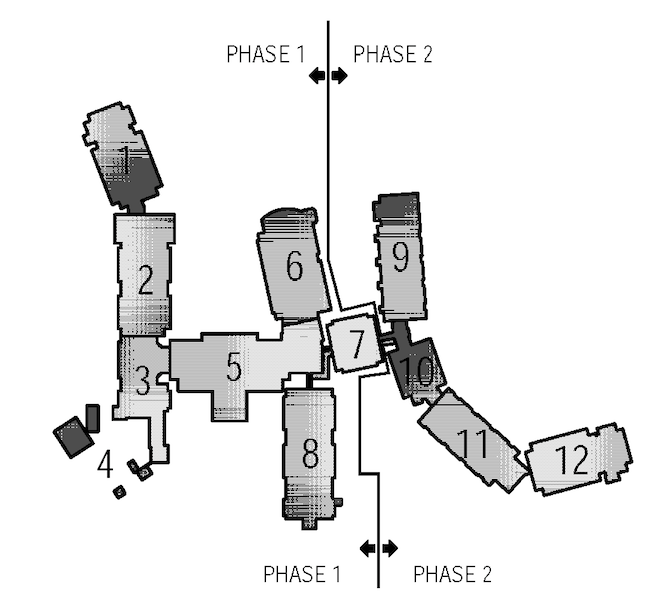 Construction would occur in two phases with most common amenities (front desk, retail, dining), the feature pool and guest rooms included in Phase 1. Phase 2 includes the leisure pool and additional villas.
Two pools are included in the design. The "Riverpool" complex sports a circular layout and waterslide. The smaller leisure pool includes water jets cascading into the pool. Both pools have adjacent hot tubs, and are designed with convenient access to quick service dining, pool bar, restrooms and other amenities.
Pools are adjacent to Bay Lake with a nearby woden bridge / walkway / marina extending out into the water.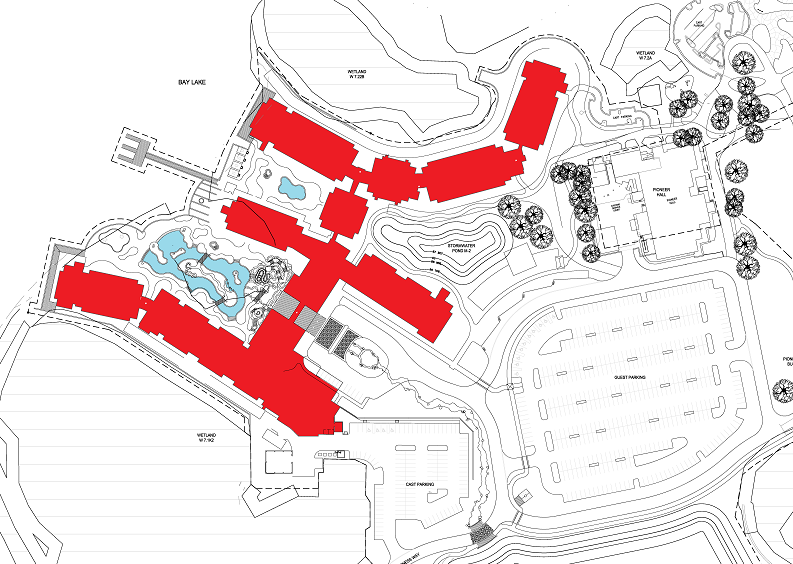 Overall site plan with DVC building in red and pools in blue. Note guest parking and Pioneer Hall to the right.
The front desk, gift shop and restaurant--presumably table service dining--are located on the third floor of the building. Two "grand" staircases provide access to the ground floor pool. A waterfall separates the two stairways. Nearby Pioneer Hall features additional dining and entertainment options including Trail's End Restaurant and the Hoop-Dee-Doo Musical Revue.
Additional plans and artwork are displayed below.
Community Hall included in designs
Quick Service dining, fitness center, arcade and other amenities separate the two pools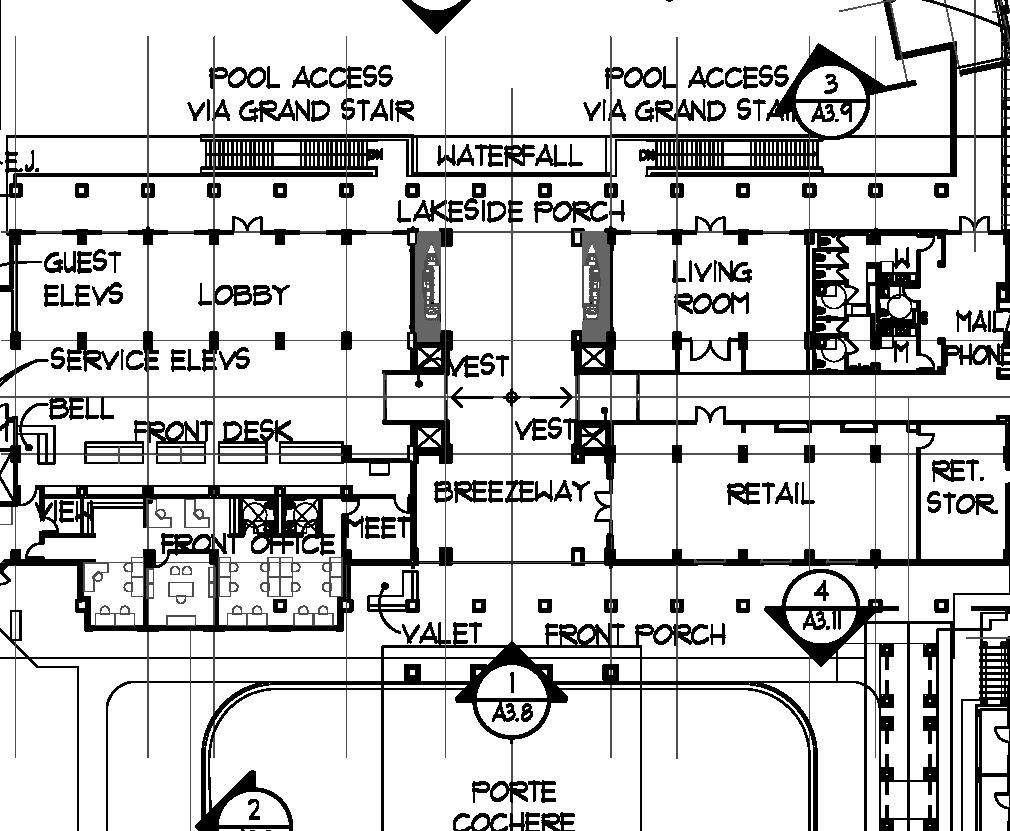 Third floor lobby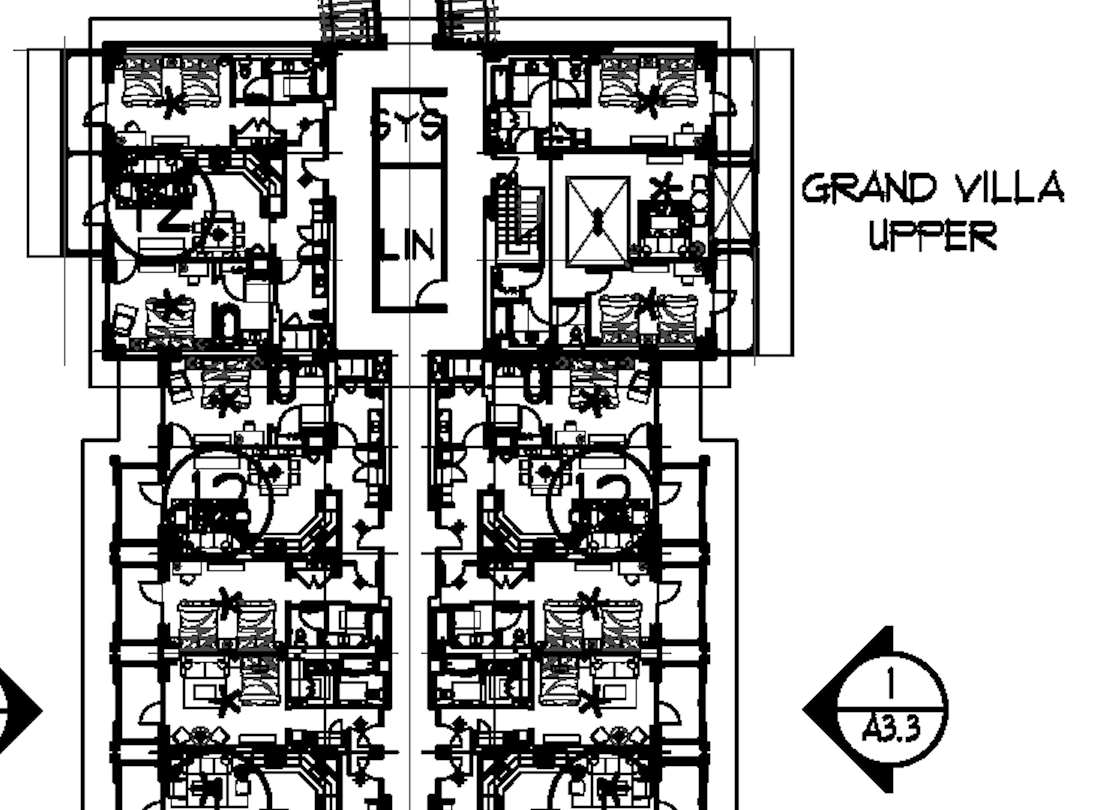 A closer look at Two Bedroom and Grand Villa room layouts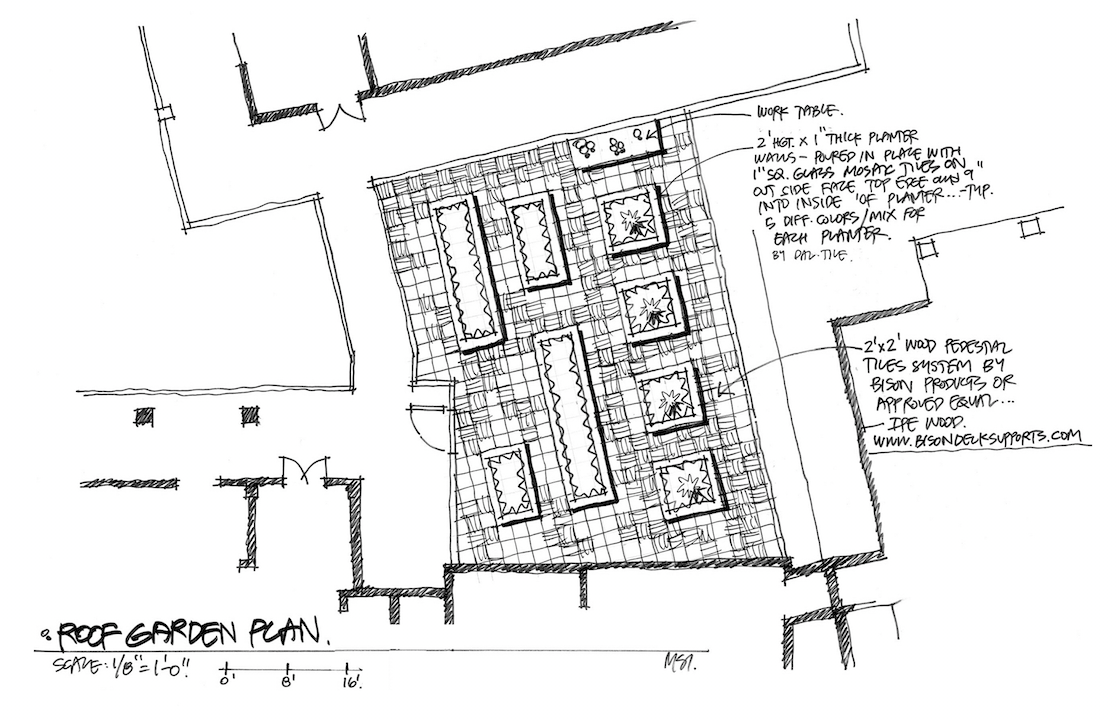 Roof garden
Port Cochere

Spring Source water feature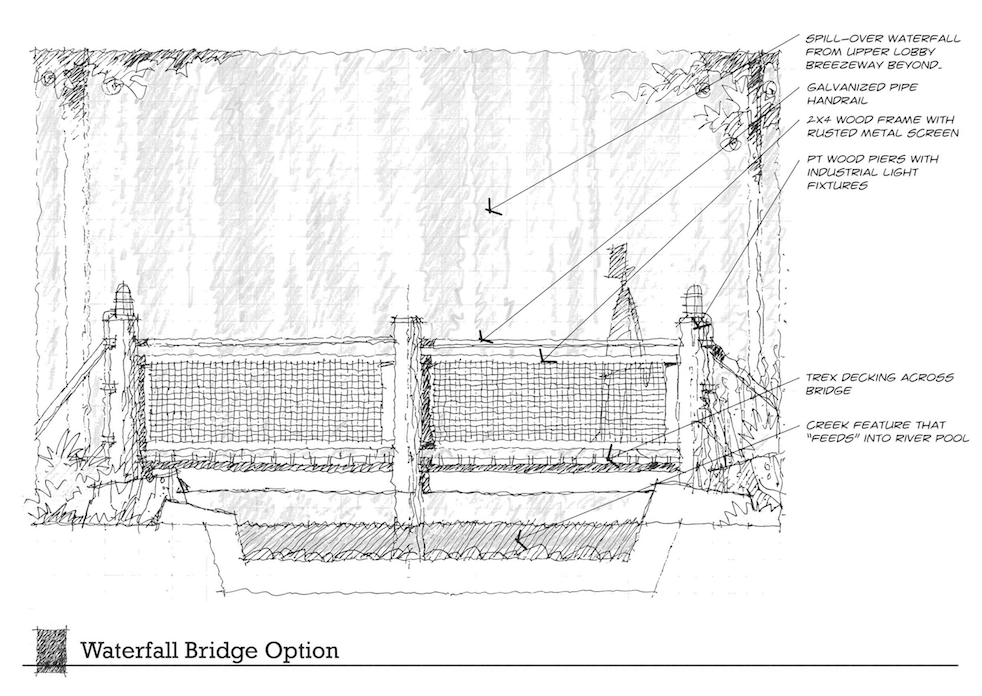 Waterfall bridge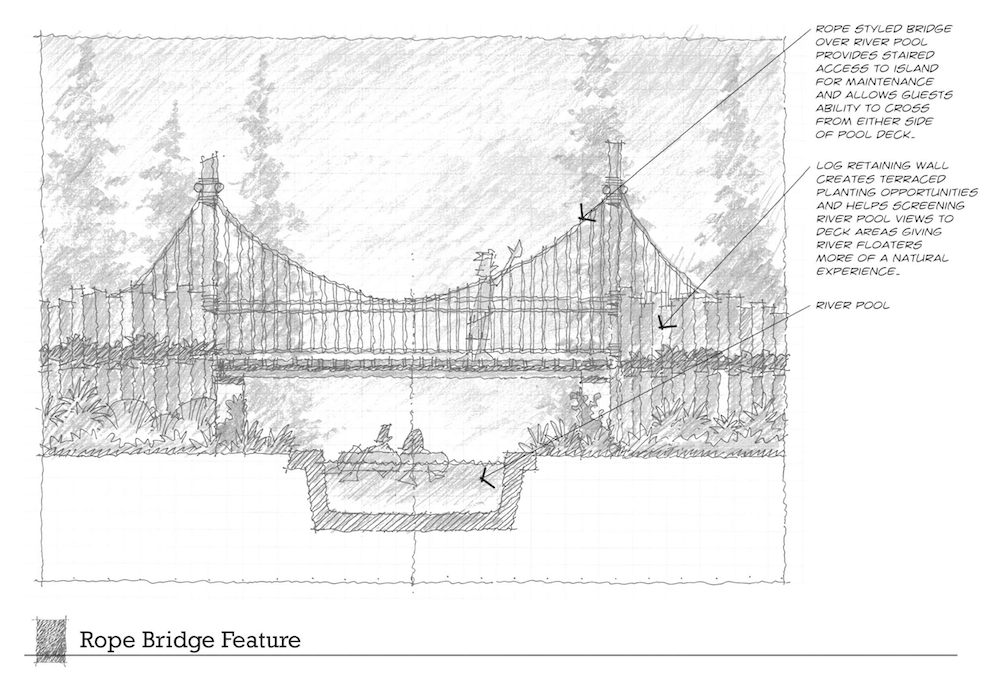 Rope Bridge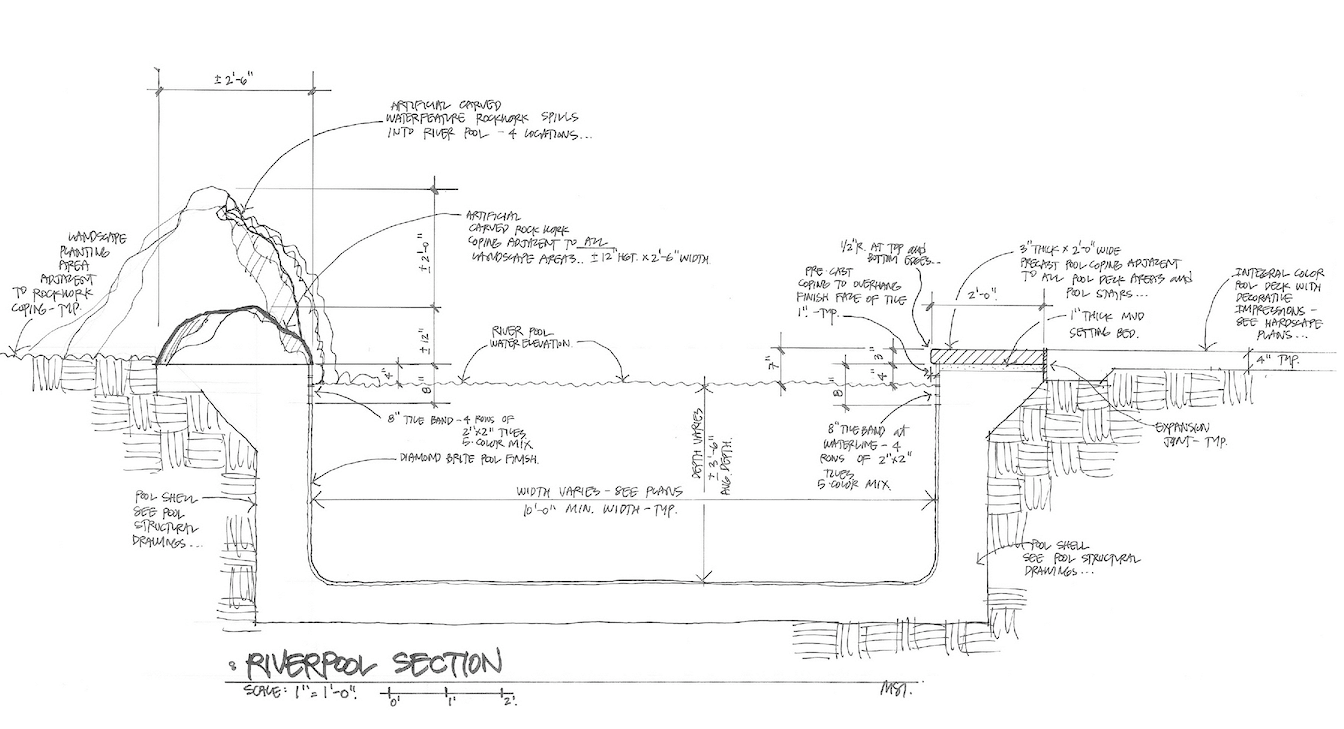 "Riverpool" feature pool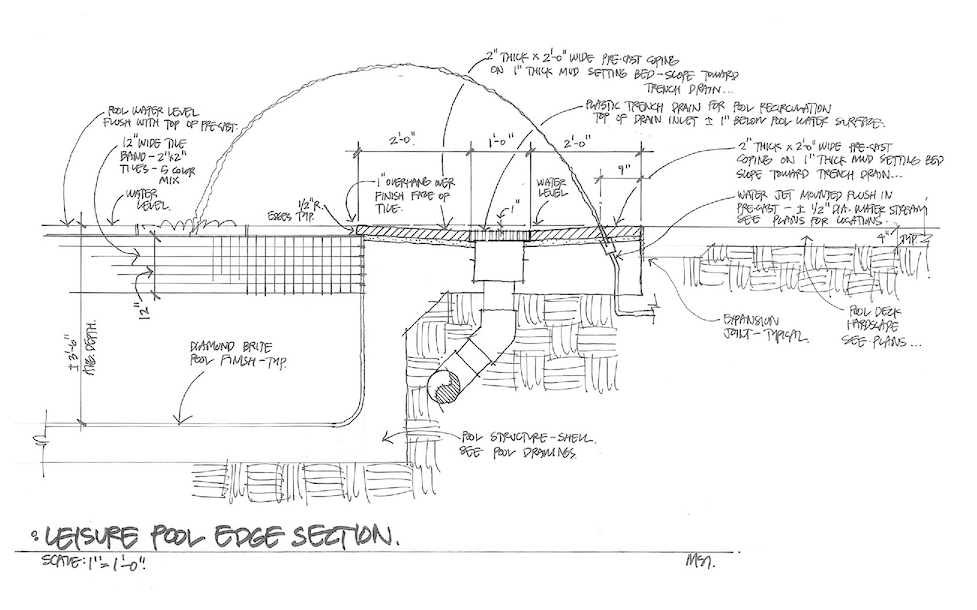 Leisure pool
No word on whether or not the Ft. Wilderness project is being revived by Disney Vacation Club. DVC has announced construction of villas at Disney's Polynesian Resort with an estimated opening in 2015.
For additional drawings and artwork, see Twitter account @AmusementLeaks.
BLOG COMMENTS POWERED BY DISQUS