The table service restaurant at Disney's Animal Kingdom Villas - Kidani Village has been revamped with several new options while retaining a number of old favorites.
The new menus at Sanaa feature some variation between lunch and dinner offerings, while maintaining several favorites for both meals.
The popular Indian Bread Service isn't going anywhere. Five breads and nine accompaniments provide amazing variety for any group. Other starters include the returning Lamb Krefta, Salad Sampler and a Seasonal Soup offering.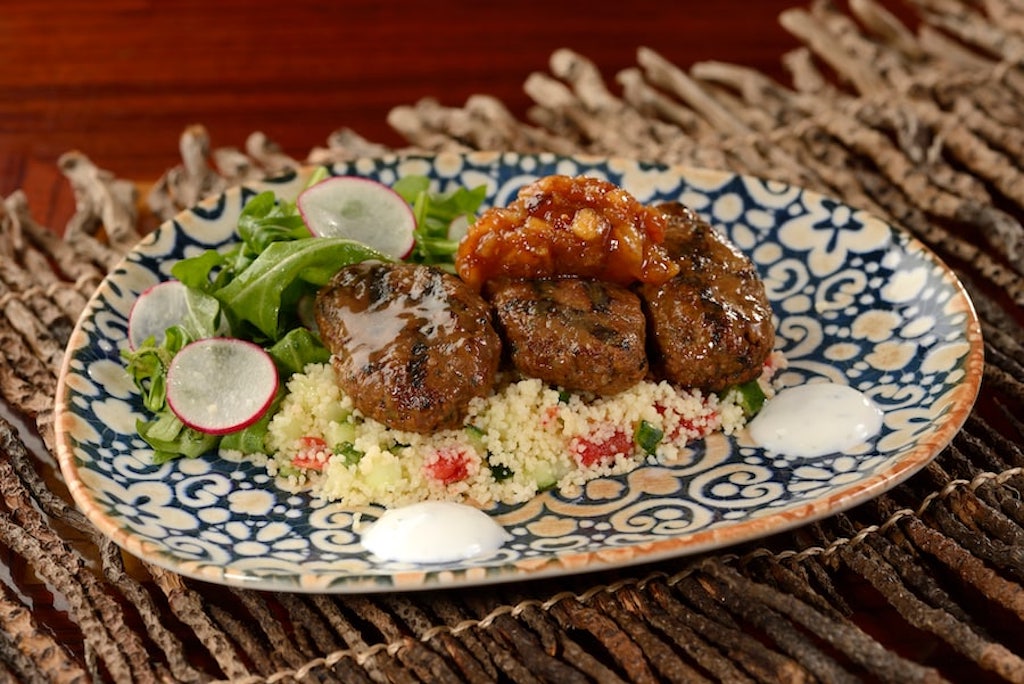 Lamb Krefta
The Potjie-Inspired slow cooked options remain the featured entree. Diners choose from options which include Butter Chicken, Braised Beef, pork and Seafood Curry, along with plant based alternatives Rajma Masala, Chickpea Wat, Sukuma Wiki and more. Chef Sahib Bhatti's recipe for the Sukuma Wiki was previously featured on the Disney Parks Blog. Personalized selections are served with a side of basmati rice.
The Zinzibari Vegetable Curry is available with chicken, shrimp or as a protein-less alternative. Samaki Wa Kupaka is a turmeric-marinated Sustainable Fish with Roasted Cauliflower, Yuca Katlesi, and Coconut Gravy.
For lunch, diners can choose the Sanaa Burger with Spiced Mustart and Peppadew Goat Cheese, or the Tandoori Chicen served on Naan with Rocket, Pickeled Onion, Tomato and Sambal Mayonnaise.
Dinner exclusives include a new Pork Shank with Braised Port, Chermoula-spiced Black-eyed Peas and Pickled Mustard, or a Grilled New York Strip with Mukimo, Harvest Vegetables, Herbed Emulsion and Fig Sauce.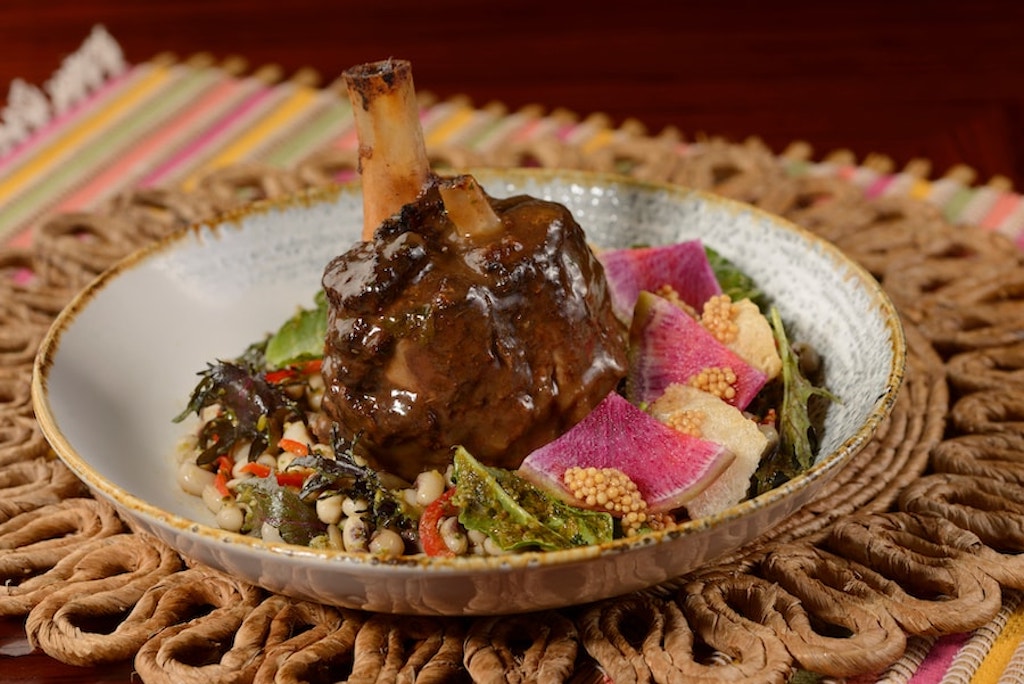 Pork Shank
Lunch entrees currently range in price from $19 for the Sanaa Burger to $32 Samaki Wa Kupaka. Dinner starts at $22 for the Vegetable Curry, up to $36 for the New York Strip.
Breakfast is also available, featuring a number of African accompaniments like House-made Boerwors Sausage, Coconut Drop Biscuits and Shahi Tukra French Toast.
Complete menu details and prices are currently available on the Disney Dining website.
BLOG COMMENTS POWERED BY DISQUS