The character breakfast at Topolino's Terrace has gone through a variety of food policies since its debut. So where do things stand as of summer 2023?
Disney's Riviera Resort opened in late 2019 and its signature restaurant--Topolino's Terrace--quickly became a favorte for many Walt Disney World guests. Riviera is the only dedicated Disney Vacation Club resort to host a signature restaurant and a character meal. However, unlike many other character meals, the breakfast at Topolino's does not offer an all-you-can-eat meal presentation. Yet the Topolino's breakfast price of $45 per adult and $29 per child equals the likes of Cape May Cafe at Disney's Beach Club Resort and 'Ohana at Disney's Polynesian Villas & Bungalows.
Upon arrival, diners are presented with a pastry basket. For our party of 4, there were at least 7 items in the platter. Selections are a combination of croissants, chocolate chip muffins and apple cinnimon muffins. Accompanying the pastries are three spreads which include hazelnut, strawberry jam and butter.
As a main course, adult diners are asked to choose one entree from a list of about nine selections. Options include familar breakfast fare such as Quiche Gruyère, Wood-fired Butchers Steak, Sour Cream Waffle and Two Eggs-Any Style.
In its early days, there were effectively no limits to what guests could order for breakfast at Topolino's. Breakfast was managed in an all-you-can-eat fashion with a single diner able to order multiple entrees for the single $45 fee. This policy proved difficult for the kitchen to manage. Topolino's was apparently not equipped to produce bulk food orders in a fashion similar to the likes of 'Ohana or buffet venues.
By 2021, the policy had been adjusted to allow guests to order their choice of primary item, while also selecting another core menu item as a side dish. For example, you could order the Two Eggs-Any Style and also opt for a single Sour Cream Waffle as a side dish. Or select the Quiche Gruyère--which comes with pancetta and potatoes--while also getting a fruit cup as a side item. The combinations were seemingly limitless, allowing diners to add fruit, a waffle or eggs to any primary menu choice.
By March 2023, the added side dish was sadly eliminated. However, there was talk of tweaking options to allow a little more value.
So where do things stand today?
2023 Butchers Steak entree with added eggs
During a visit in early August 2023, we were presented with a couple of tweaks to the official menu. First, those who ordered the steak entree were allowed to add eggs at no additional cost. The steak is described as being accompanied by Polenta, Pomodoraccio Tomatoes, Roasted Onions, Wild Mushroom Conserva and Watercress, all of which were still included with the entree. However, before even taking orders, our server indicated that anyone choosing the steak could include two eggs, any style, if they wished.
Secondly, our server openly asked each diner if they wanted toast with their meal. The toast is a nice addition, two slices of thick cut bread presumably baked in-house. A choice of white or wheat is avaialble. All meals also include a choice of non-alcoholic beverage.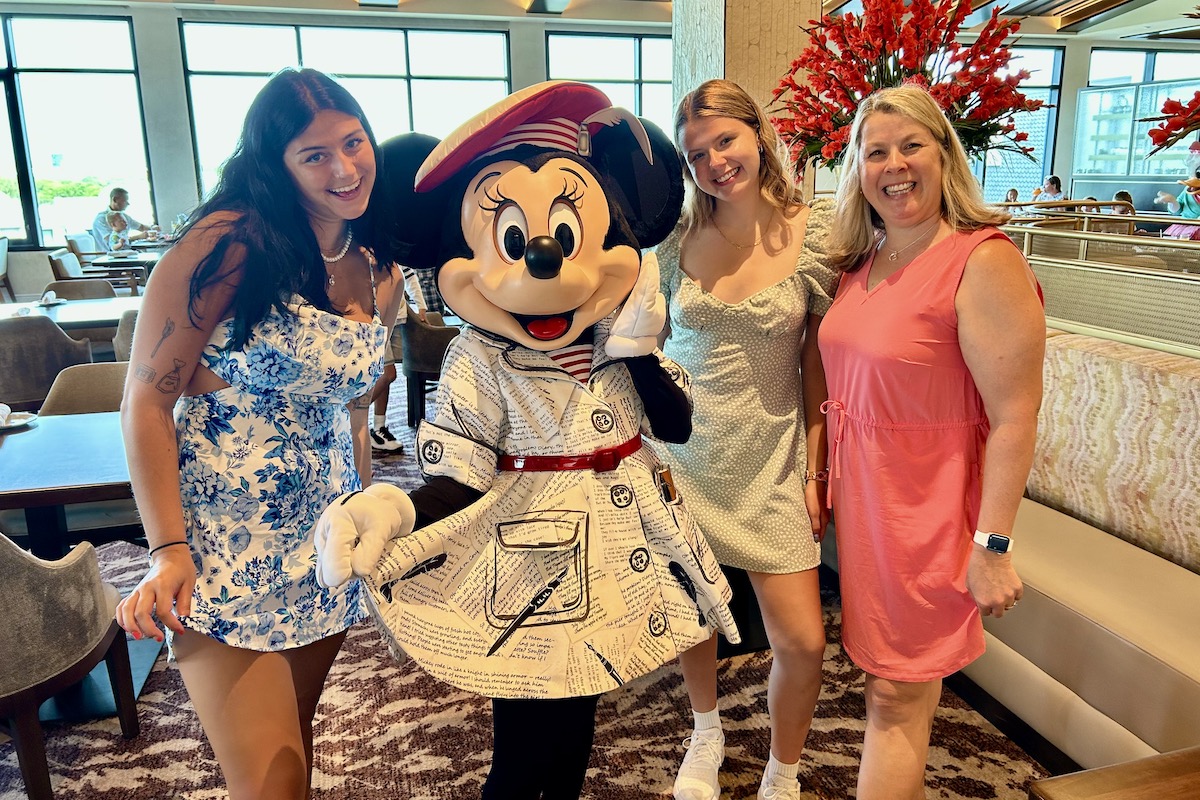 While our server went above and beyond to explain the current options and encourage additions where possible, it is not clear if every staff member is equally forthcoming. Diners at Topolino's are encouraged to discuss current poicies with their server.
While Topolino's character breakfast does not offer the volume or variety of some other meals, it likely makes for a satisfying meal for most people. Buffets and family style dining options are available elsewhere. Topolino's continues to shine via the quality of its food, charming location and high quality character interaction.
BLOG COMMENTS POWERED BY DISQUS