Disney Vacation Club members can now use the website to add one of the two Disney Dining Plans to qualifying resort reservations in 2024.
Disney Dining Plans are set to return on January 9, 2024. Disney Vacation Club members have long been able to add the dining plan to their reservations, however the process previously required a phone call to Member Services. That roadblock has been eliminated with a new online purchase option available to DVC members.
The option will be presented when making a reservation and can also be accessed by visiting the Member Dashboard. Opening trip details on the dashboard reveals several planning options including "Add Travel Insurance" and "Purchase Tickets." A new link allows owners to "Purchase Dining Plan."
Two versions of the dining plan are set to return in 2024. The Quick-Service Dining Plan offers two Quick Service Meals, one snack and a refillable beverage mug per night at a cost of $57.01 per adult and $23.83 per child age 3-9, per night (includes tax.)
The standard Disney Dining Plan provides one Table-Service Meal, one Quick-Service Meal, one snack and a refillable mug for $94.29 per adult, $29.69 per child, per night.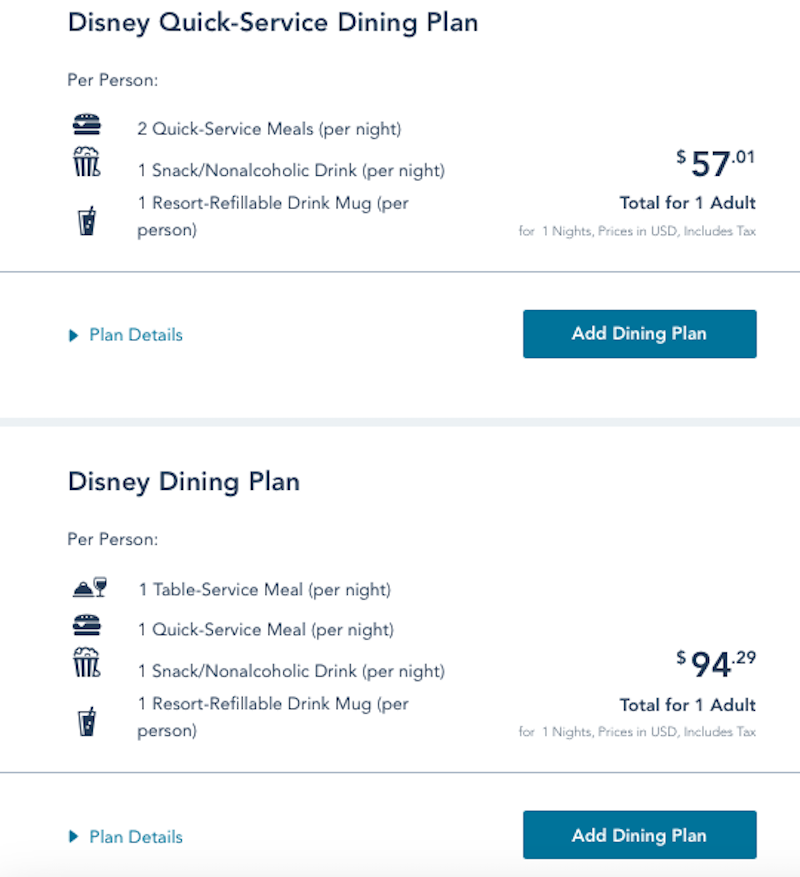 See our prior coverage for additional details on the return of the Disney Dining Plans.
Dining Plans must be purchased for the entire traveling party and for every night of the stay. Full payment is due when the dining plan is added to the reservation.
BLOG COMMENTS POWERED BY DISQUS