Disney took to its official Parks Blog yesterday to share many new details regarding the new hotel soon to begin construction at Disneyland Resort.

New four diamond hotel concept (Copyright Disney)
The still unnamed 700-room hotel will be located on the western side of Disneyland property, between Downtown Disney and the Disneyland Hotel near the current monorail station. In fact, construction will necessitate the removal of several current Downtown Disney residents including ESPN Zone, AMC theater Rainforest Cafe, Starbucks and Earl of Sandwich.
The property is described as "a dynamic dining, entertainment and hotel experience" which "[showcases] nature on every level of the hotel."
The ground level will feature shops and restaurants built around a landscaped plaza running through the center of the resort. A dedicated monorail station will provide direct transportation into the Disneyland park. Guest rooms and a rooftop restaurant will provide views of the Disneyland fireworks.

New four diamond hotel concept (Copyright Disney)
Disney has reportedly approached the impacted Downtown Disney retailers to discuss relocation possibiilties.
The news release offers no mention of Disney Vacation Club accommodations. However, Disney's relucatance to publicize future projects is well documented. It has been suggested that plans still call for a DVC building located between the new structure and Paradise Pier Hotel, but that wing was deliberately omitted from this concept artwork.
A hotel parking structure is also slated for construction behind Paradise Pier with a Downtown Disney lot on the southwest corner of Disney property. An image from the Orange County Register illustrates the redevelopment plan including the location of the "new four diamond hotel" at the center of the three existing Disney hotels.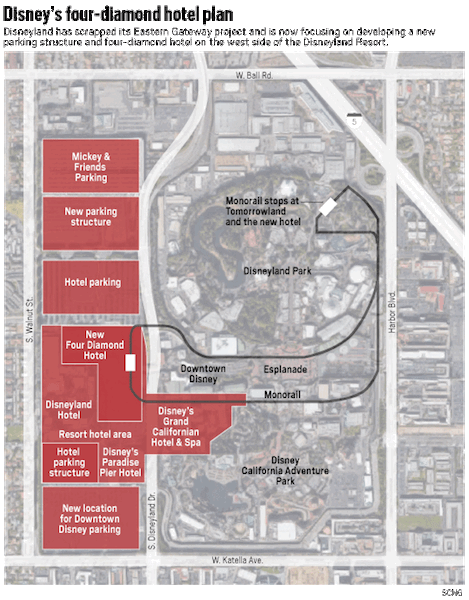 Disneyland redevelopment plan (Orange County Register)
Meanwhile Disney has abandoned plans to create an "Eastern Gateway" which would have linked a new parking structure to Disneyland and Disney California Adventure via elevated footpath across Harbor Boulevard. The project faced challenges from neighboring businesses who feared they would lose foot traffic by moving guest traffic above street level.
Instead Disney will expand its Mickey & Friends parking garage with 6,500 additional spaces.
Construction on the new hotel and parking expansion will begin in 2018. The garage is expected to be completed some time in 2019 with the hotel in 2021.
BLOG COMMENTS POWERED BY DISQUS