A new series of permits have provided our first detailed look at the layout and makeup of Disney Vacation Club villas in the new tower at Disney's Polynesian Village Resort.
The latest permit filed with South Florida Water Management District features thorough plans of the ground level of the new Polynesian Tower. Several guest rooms are present on that ground floor, representing nearly all types familiar to Disney Vacation Club owners. Included are Deluxe Studio rooms, One Bedroom and Two Bedroom villas. And also one of the newer 2-person Duo Studios which first appeared as a Tower Studios at Disney's Riviera Resort.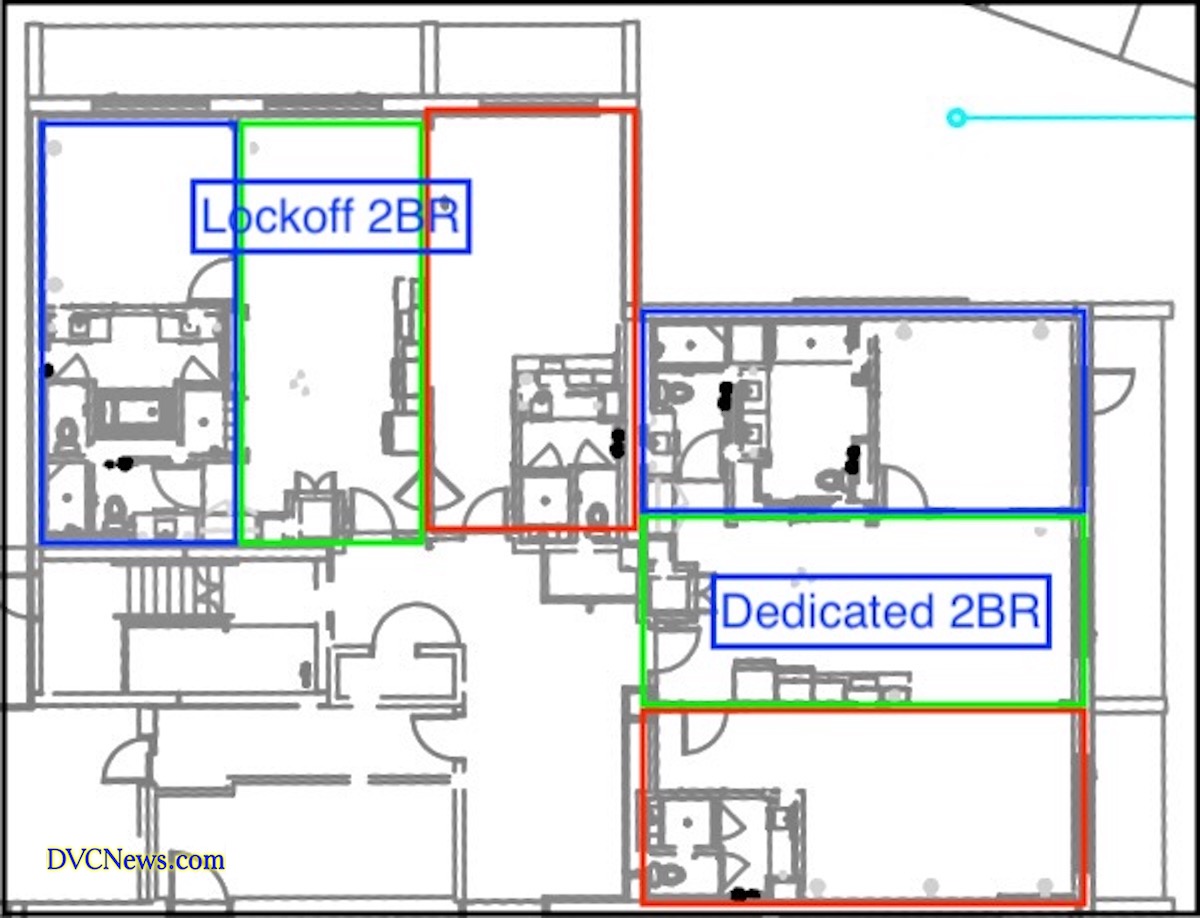 This first image depicts an apparent Dedicated Two Bedroom Villa adjacent to a Lockoff Two Bedroom Villa. The outlines help illustrate different portions of the room with the master suite in blue, the living area and kitchen in green and the Lockoff Studio / guest bedroom in red. The lockoff Two Bedroom can be identified by the second entry door leading into that separate bedroom. As with other DVC lockoffs, this room could be booked as either a combined Two Bedroom villa or separately as a One Bedroom and a Deluxe Studio.
Other details are difficult to come by, however the living area appears to have the galley kitchen layout which has been frequently used of late in Riviera, Copper Creek Villas & Cabins and The Villas at Disneyland Hotel.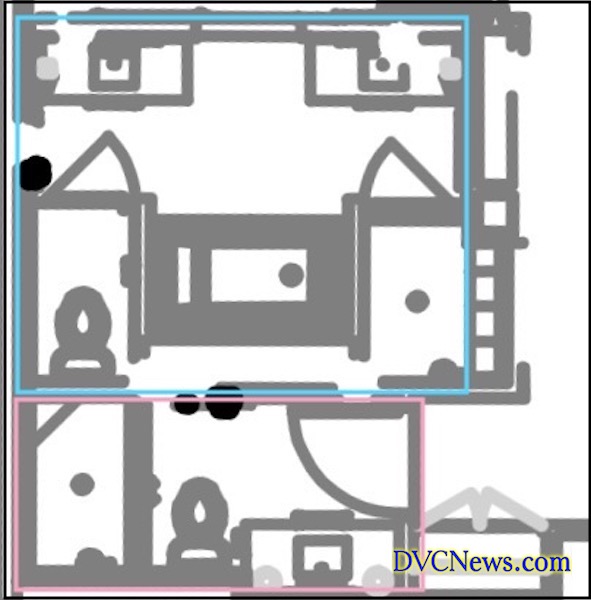 A closer look at the bathroom facilities reveals three full bathrooms in Two Bedroom Villas. The image above shows two of the bathrooms positioned side-by-side. Outlined in turquoise is the master bathroom which appears to have dual vanities, a tub in the middle of the room flanked by a walk-in shower and toilet. Beneath outlined in pink is another full bathroom accessible via the living area. Each of these villas would have a third bath (not pictured) attached to the guest room / lockoff Studio.
Elsewhere on the floor are what appears to be two dedicted One Bedroom villas sitting side-by-side. The master suite is outlined in blue and the living space in green. These rooms each have two full bathrooms and the galley kitchen. Noteworthy are some slight variances in the bathrooms between the two rooms. One of these villas may be an accessible room with slight modifications to the layout.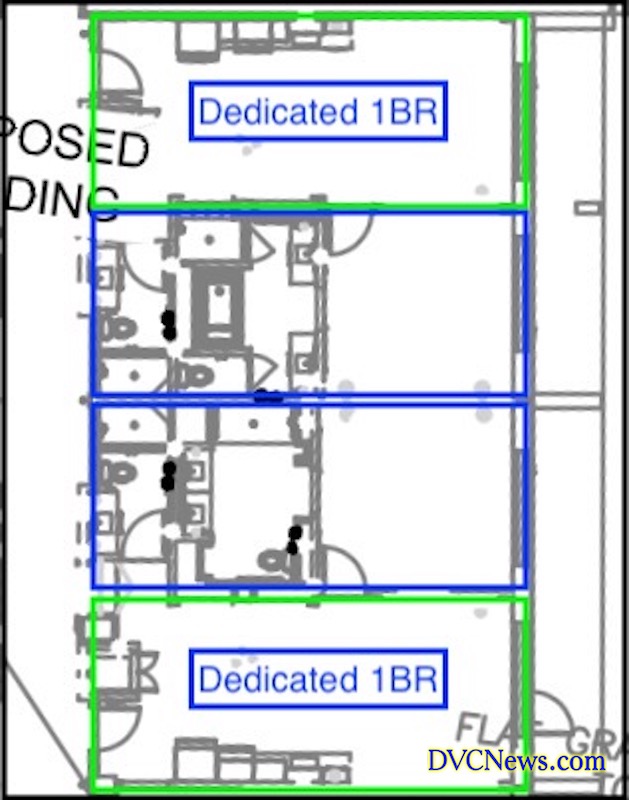 Next up are two dedicated Deluxe Studio rooms in red, along with a Duo Studio in purple. The Duo Studios have a maximum occupancy of 2 guests with the living space largely consisting of a queen-size pull down Murphy Bed.
In total, the ground floor of this building appears to contain the following:
Duo Studio: 1
Deluxe Studio: 2
Dedicated One Bedroom: 2
Dedicated Two Bedroom: 1
Lockoff Two Bedroom: 2
The presence of Deluxe Studio and lockoff Two Bedroom villas adds a new dimension to the debate regarding whether the Polynesian Tower will be made part of the current Polynesian Villas & Bungalows or a separate DVC timeshare association. With 360 Studio rooms already present, there is no pressing need for additional Deluxe Studio rooms if the two are to be combined. Still, until Disney Vacation Club makes its intentions clear, we can only speculate about their plans.
The unnamed Polynesian Tower is scheduled to open sometime in 2024.
h/t WDWMagic.com
BLOG COMMENTS POWERED BY DISQUS